Reproductive Technology and IVF Financing
Achieving Your Dreams of Parenthood
While the rewards of parenthood and creating the family of your dreams are priceless, the financial commitment can be very challenging. Infertility treatment is not only emotionally draining; it is also a very costly investment. We understand and sympathize with these concerns and try to alleviate as much stress as possible by providing information for patients considering fertility treatments. We will always strive to provide you with complete, open communication and an understanding of the financial aspects of your care.
Many insurance companies now provide financial assistance for the diagnosis and treatment of fertility problems. Be sure to check your policy or call your agent.
Insurance & Benefits
Insurance benefits vary widely and it is impossible for us to know every possible scenario of coverage each plan has. Because each plan was selected by you or your employer, it is important to call and know all your benefits before you begin treatment. To assist you with this process, below are a few standard questions to ask of your insurance company:
Does my insurance plan cover diagnostic evaluation for infertility, such as lab work, ultrasounds, hysterosalpingogram, and semen analysis?
Does my insurance plan cover infertility treatment, such as artificial insemination or In Vitro Fertilization?
What is my co-payment to a Fertility Specialist?
What is my deductible?
Does my insurance cover oral or injectable medications such as Clomid, Follistim, Gonal-F and Repronex?
What is my co-insurance?
Is medication part of my maximum?
Remember, you are their customer and have more influence with your insurance provider than your physician. Your involvement and assistance in coordination of authorizations is a vital part of this process and to protect you from the surprise of becoming financially responsible for any services they do not cover. The more you know about your coverage, the easier it becomes to go forward with treatment.
There are a few options available if your insurance company will not cover infertility treatment or if you do not have insurance coverage. Some banks will allow you to take out a personal loan for these procedures. For more information regarding special banks which help with financing elective procedures, contact our office. We will be happy to assist you in any way.
Before your first visit, our new-Patient patient coordinator will collect your insurance information so that we can perform a benefit check and confirm your insurance benefits. At your first appointment, we will meet with you to review and help you navigate the complicated world of insurance benefits. We are committed to making sure you take full advantage of your health insurance benefits.
Insurance FAQs
1. Will my health insurance pay for infertility treatment?
If you employer has purchased infertility as a benefit, it will be covered by your insurance. Those benefits vary per employer. Before your initial appointment, our office will contact your insurance to check your benefits.
2 If I do have infertility benefits, what is my responsibility?
Each insurance plan is different so it really just depends on your plan. Your responsibility could be anywhere from a $10 co-payment per visit to 50% of all treatment.
3. What insurance companies are you contracted with?
We are contracted with all the major companies in the area including Blue Cross Blue Shield, Cigna, Humana, Aetna, Tricare, United Healthcare and even some smaller insurance companies through a third party provider.
4. If I do not have any health insurance to cover infertility, what would be my cost?
That can also vary depending on what type of treatment you may need. We will go over all the costs of all possible treatments with you at the time of your initial appointment.
5. Am I responsible for obtaining a referral to be seen at your clinic?
It is your responsibility to obtain a referral for your initial consultation from either your PCP or OB/GYN. After your first visit, you will be responsible for having a current referral. We will also obtain any pre-authorizations for any procedures done on an outpatient or inpatient basis, either at the hospital or at our clinic. However, for your own benefit, we would like to suggest that you always make sure there is a referral in place or authorization is obtained before any procedure.
Questions to Ask Your Insurance Company
1. Does my insurance cover diagnostic evaluation for infertility (i.e., lab work, ultrasound, hysterosalpingogram, andrology services)? Does my insurance cover physician, hospital, and lab charges?
2. Does my insurance cover treatment for infertility such as artificial insemination or in vitro fertilization?
3. What is my co-payment to an infertility specialist? (Remember, this is usually provided by a sub-specialist and can be different from your regular co-payment amounts.)
4. What is my co-payment/deductible for infertility-related hospital charges?
5. Does my insurance cover oral or injectable medications (Clomid, Lupron)?
6. Does my insurance require use of a specific contracted pharmacy?
7. Does my insurance require use of a specific contracted laboratory?
When working with your insurance company, make sure you have the appropriate authorizations before you begin any treatment plan. You are their customer and have more influence with your insurance provider than your physician or surgery center does. Your involvement and assistance in coordinating authorizations, etc., are vital in order to protect you from the surprise of becoming financially responsible if they do not pay. Remember, insurance authorizations can take up to six weeks, so be careful when rushing into a treatment or procedure without that authorization number!
Flexible Financing
The Columbus Center for Reproductive Endocrinology & Infertility understands that financial issues may keep you from completing your dreams of parenthood. We have partnered with Prosper Healthcare Lending. They are the premier financing company in the healthcare industry. With over $4 Billion borrowed and over 250,000 people empowered, this is a name and a program you can trust.
Prosper Healthcare Lending
Here are some of the benefits you'll receive with a loan from Prosper Healthcare Lending:
Immediate decisions without affecting your credit!
Longer terms for lower monthly payments
No Collateral required
No prepayment penalties
Fast & easy loan inquiry process
100% Confidential

United Medical Credit
Thousands of patients have trusted United Medical Credit to secure affordable payment plans for their procedures. United Medical Credit can do the same for you.
Some of the benefits of choosing United Medical Credit to finance your care:
Extensive Network of Prime and Subprime Lenders
Multiple Plans to Choose From
Decisions Within Seconds
No Prepayment Penalties with Flexible Terms
Fast and Easy Application Process with No Commitment
100% Confidential
Plans available for Credit Challenged Applicants
Medical Financing
Affordable payment options
No prepayment penalty
Multiple financing plans to choose from
Sub-prime financing available for less than perfect credit
You can schedule procedures when it's convenient for you, at a cost that's within your budget. We make it easy to afford the reconstructive or cosmetic surgery that you need or want. Use MedicalFinancing.com to pay for procedures up to $35,000.
Low rates from 8.99% to 29.99% are available. Zero interest programs are available for qualified applicants at participating providers. At MedicalFinancing.com there's an option designed for you a rate you can afford.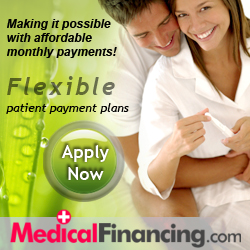 The Lending Club
Patients need a simple and affordable way to pay for the care you prescribe. Lending Club Patient Solutions provides it. Our rates are low, our approvals are high. Decisions happen faster than ever before. And patients have the funding flexibility they need. Best of all, practices are freed up to focus on what they do best: care for patients.